On January 3, the name day of who is called Genoveffa is celebrated. We discover the origin of the name and the history of the saint remembered today.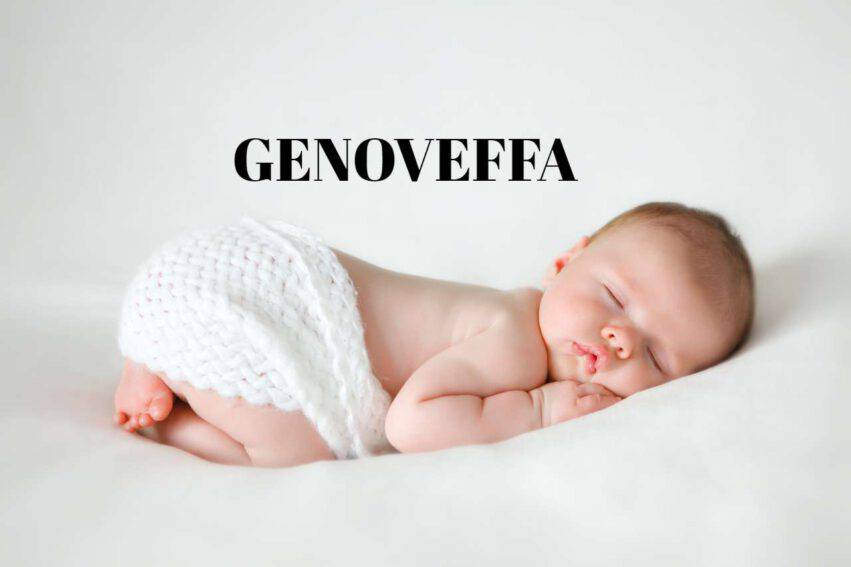 The name, widespread especially in Campania, derives from the Celtic and means "with white cheeks", But it also lends itself to another interpretation. Some derive the name from German culture and would be composed of Geno, "lineage", and Wifa, "woman / wife", with the meaning of "woman / wife of (noble) lineage ".
Who bears this name is a stubborn, ambitious and much admired woman.
Variants of the name:
Geneviève
Gennie
Genovive
THE symbols associated with the name are:
lucky number: 4
Red
stone: ruby
metal: iron
Saint of the Day: Santa Genoveffa
As for the saint, the January 3 we celebrate Santa Geneviève (Genoveffa in Italian) Virgin, who was born in Nanterre, near Paris, around 422 from a rich family.
At the age of 15, after the death of his parents, he consecrated himself to God, becoming part of a group of virgins who, while wearing different from other women, do not live in the convent, but in their homes, dedicating themselves to works of charity and penance.
He dedicates his whole life to ascesis, to penances, to prayers: only eats a piece of barley bread and boiled broad beans twice a week, on Thursdays and Sundays. He has managed to maintain this diet from the age of fifteen up to fifty when, now wasted, she lets herself be persuaded by the priests to add milk and fish to her diet.
In 451 while Paris is threatened by Attila's Huns, Genoveffa convinces the Parisians not to leave the city but to pray, trusting in the protection of heaven. However, not everyone agrees to the point that she risks being lynched. But in the end the Parisians follow her and Paris is spared.
Subsequently, Paris, attacked by the king of the Franks and conquered, faces the plague of famine, to overcome which Genevieve procures wheat from the farmers, then generously distributes it to the Parisians.
It then succeeds in exploit his friendship with the kings of the time to obtain pardons for numerous political prisoners.
Genoveffa died in 502, at almost 90 years old, on January 3, a date which was then dedicated to his feast. A wooden oratory was erected on his tomb, on which the famous one was later erected Abbey of Santa Geneviève, later transformed into a basilica by King Louis XV. In the same church, her friend King Clovis is buried next to her, and much later also the queen.
The tomb remained protected even during the Paris flood of 822.
Today Genoveffa is patroness of Paris.
Did we persuade you to call your child after this holy woman?
January 3 is the name day of Genoveffa