Spicy Thai Shrimp Soup
Spicy Thai Shrimp Soup recipe.
Spicy Thai Shrimp Soup.
Check below for printable version of Spicy Thai Shrimp Soup.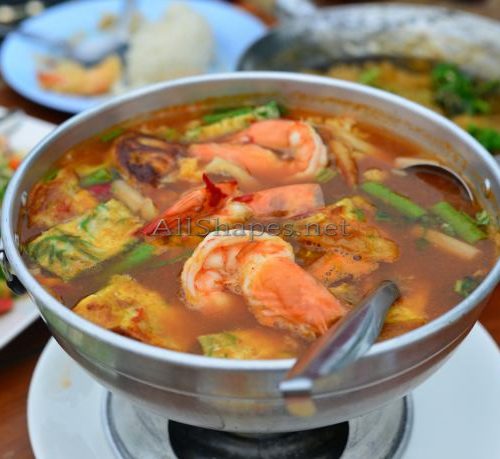 Print Recipe
Ingredients
2 Tablespoons peanut oil

2 Tablespoons minced fresh ginger

1/2 Teaspoons dried crushed red pepper

5 cups chicken broth

1 Tablespoon lime peel (green part only)

1/3 Cup long grain white rice

3/4 lb. uncooked shrimp (peeled, de-veined)

6 large mushrooms (quartered)

1 Can unsweetened coconut milk

1/2 Cups chopped onion

2 Tablespoons fresh lime juice

4 green onions (chopped)
Instructions
Heat oil in heavy large saucepan over medium heat.  Add ginger and red pepper and sauté until ginger is aromatic, about 1 minute.  Add stock and lime peel.  Bring to boil.  Stir in rice, reduce heat, cover and simmer until rice is very tender, about 20 minutes.  Add shrimp, mushrooms, coconut milk and onion and cook until shrimp is opaque, about 5 minutes.  Remove from heat and add lime juice.  Garnish with green onions.
We have partnered with a job search database and portal, so you can find millions of jobs (IT jobs, Nursing, Engineering, Doctor, Handyman, Contractors) from our website and apply jobs for free. Just change keyword and city of your choice and hit search.
Search Millions of Chef Jobs
---
Amazon Affiliate Disclosure Notice
Allshapes.net is a participant in the Amazon Services LLC Associates Program, an affiliate advertising program designed to provide a means for sites to earn advertising fees by advertising and linking to Amazon.com. Amazon, the Amazon logo, AmazonSupply, and the AmazonSupply logo are trademarks of Amazon.com, Inc. or its affiliates.
Tags:
Spicy Thai Shrimp Soup