Best Fried Chicken Recipe With Calorie Charts

---
---
Lets begin this delicious Low Carb Keto Fried Chicken recipe, all at home! Tasty and easy, it is. It's easy to make low carb keto fried chicken in an air fryer. But if you don't have this trendy appliance, the chicken can be baked in a regular oven instead. For this recipe, there isn't any surprising ingredients.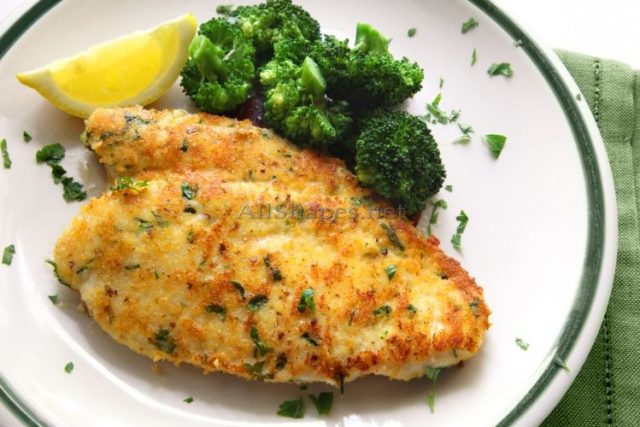 While fried chicken is delicious, it is cooked in vegetable oils heated to a dangerous temperature; it's also covered in breading, which brings the carb level up to 8-11 grams of carbs per piece. By contrast, all of the grilled chicken offerings have no carbs. Leave the biscuits behind, obviously.
Recipe serves 2-3.
Ingredients
1 pound chicken breasts, defrosted
1/2 cup pork rinds, crushed
1/3 cup Parmesan cheese, shredded
2 large eggs
1 tsp salt
1 tsp pepper
2 heaping tablespoons coconut oil
Cooking Instructions
Crush your pork rinds in Ziploc bag using a hammer fist like you're playing whack-a-mole.
In a bowl, stir together crushed pork rinds, parmesan cheese, salt, and pepper.
In another bowl, crack two eggs and fork whisk them until frothy.
Dip one chicken breast at a time into the egg mixture, then dip it into the crushed pork rind mixture. To ensure there will be a nice crust, dip it in the egg mixture again, and again into the pork rinds.
Put your coconut oil in a cast iron skillet or pan. Turn to high heat and let it get hot and start to smoke.
Once the oil is hot, place your chicken in the skillet. Don't flip it. Let it fry for 5 minutes until the crust gets nice and crisp and then flip it and fry for 5 more minutes.
Turn the heat down to medium low and cook the chicken 3 to 5 more minutes per side (depending on the thickness of your chicken breast).
This makes a total of 2 servings of Low Carb Crispy Fried Chicken. Each serving comes out to be 575 Calories, 32.11g Fats, 1.07g Net Carbs, and 66.04g Protein.
Keto Fried Chicken Calories Chart
| | | | | | | |
| --- | --- | --- | --- | --- | --- | --- |
| Low Carb Crispy Fried Chicken | Calories | Fats(g) | Carbs(g) | Fiber(g) | Net Carbs(g) | Protein(g) |
| 12 ounce chicken breast | 561 | 12.14 | 0 | 0 | 0 | 105.47 |
| ½ cup pork rinds, crushed (17.5 g) | 100 | 6.25 | 0 | 0 | 0 | 10 |
| 1/3 cup shredded Parmesan cheese | 111 | 7.29 | 0.91 | 0 | 0.91 | 10.09 |
| 1 large egg | 72 | 4.75 | 0.36 | 0 | 0.36 | 6.28 |
| 1 teaspoon pepper | 6 | 0.07 | 1.47 | 0.6 | 0.87 | 0.24 |
| 1 ½ tablespoons olive oil | 179 | 20.25 | 0 | 0 | 0 | 0 |
| 1 tablespoon coconut oil | 121 | 13.47 | 0 | 0 | 0 | 0 |
| Totals | 1150 | 64.22 | 2.74 | 0.6 | 2.14 | 132.08 |
| Per Serving(/2) | 575 | 32.11 | 1.37 | 0.3 | 1.07 | 66.04 |
Calorie chart reference – Credits: Ruled.me

Shopping Notes
Pork rinds are typically in the chip aisle of the store and are sometimes called Chicharrones.
Any raw, natural chicken breasts will work, but the thinner the better if you want to shorten the pan frying time.
I used shredded Parmesan cheese, but I'm betting any shredded cheese will work.
I used refined, high heat tolerant coconut oil. It's good for pan frying.
Any eggs, salt, and pepper are fine.
Utensils & Appliances For Cooking
Ziploc Sandwich and Snack Bags for On the Go Freshness, Grip 'n Seal Technology for Easier Grip, Open, and Close, 30 Count, Pack of 3 (90 Total Bags)
Grip 'n Seal technology with extended tab, easy-grip texture and double zipper makes these plastic sandwich bags easy to use
Great for 'on the go' enjoyment – at school, at the office, or wherever life takes you
Mindfully made to be reusable and recyclable
Durable BPA-free plastic makes these reusable Ziploc bags perfect for storing food and non-food items, such as crayons, craft items and more
Pack contains 90 Ziploc sandwich bags to keep your family stocked up for school, work, picnics and vacations
Mercer Culinary, Blue Millennia Chef's Knife, 8 Inch, 8-Inch
ergonomic handle – a combination of santoprene for comfort and polypropylene for durability
textured finger points provide slip resistance, grip, and safety. protective finger guard.
hand wash knives for blade edge and surface care
the highest quality japanese steel allows for easy blade maintenance and rapid sharpening for a razor-sharp edge
one-piece high-carbon, stain-resistant japanese steel
Included components: user guide
Hiware 12-Piece Dinner Forks Set, Food-Grade Stainless Steel Cutlery Forks, Mirror Polished, Dishwasher Safe - 8 Inch
Set of 12 stainless steel forks, heavy duty and durable. Great for everyday use, hotel, restaurant, entertaining, holiday meal and more
Made of premium high quality stainless steel which ensures your health, Rust-resistant, sturdy and durable for years to come
Clean and classy looking, smooth surface and mirror polish makes these forks always keep shining, Modern silverware would match well with your existing cutlery and elevate your everyday meals into a fine dining experience
These dinner forks have a nice weight and length, Not too heavy, not too light, Well balanced and comfortable to hold
If you're not completely satisfied simply let us know and we will offer a prompt refund or replacement, no questions asked
StarPack Premium Silicone Kitchen Tongs (9-Inch & 12-Inch) - Stainless Steel with Non-Stick Silicone Tips, High Heat Resistant to 600°F, For Cooking, Serving, Grill, BBQ & Salad (Teal Blue)
NO MORE FLIMSY COOKING TONGS – StarPack 1.0mm extra thick stainless steel kitchen tongs with silicone tips offer fantastic grip & control, feature a durable ring-pull locking system.
SAFE AND HEALTHY FOR YOUR FAMILY – Premium Range means highest quality , family-safe, non-stick-safe, safety tested, BPA-Free, 600°F heat-resistant EU LFGB-Grade silicone tongs for cooking!
INSPIRED TO LOVE COOKING AGAIN - These dishwasher-safe, silicone tipped tongs inspire you to cook heavenly dishes for friends & family, especially with the bonus '101 Cooking Tips' PDF we send you!
VERSATILE ESSENTIAL KITCHEN SET - Set Contains: 1 x Tongs with silicone tip & 9" handles. 1 x Silicone Kitchen Tongs with 12" handles, so you've always got maximum conveience at your fingertips.
NON-MELT, NON-RUST, NON-FLAKING - The kitchen tongs stainless steel handles don't rust, while the silicone on the cooking tongs for nonstick cookware neither melt, nor flake into your food!
Utopia Kitchen 12.5 Inch Pre-Seasoned Cast iron Skillet - Frying Pan - Safe Grill Cookware for indoor & Outdoor Use - Cast Iron Pan
Cast iron cookware is less smoother than the Non-Stick cookware.
Iron deficiency is fairly common worldwide especially among women so cooking food in a cast iron skillet can increase iron content by as much as 20%
Hand wash even before first use and dry immediately; rub with a light coat of vegetable oil after every wash
Allow cast iron skillet to cool completely before washing them in hot soapy water with a sponge using regular dishwashing liquid soap; it is not dishwasher safe
Its superior heat retention will keep your mouth watering food warm for a long time
12" Stone Earth Frying Pan by Ozeri, with 100% APEO & PFOA-Free Stone-Derived Non-Stick Coating from Germany
Utilizes a stone-derived coating from Germany that is 100% free of APEO, GenX, PFBS, PFOS, PFOA, and the lesser known chemicals NMP and NEP.
Eco-friendly pan delivers unprecedented non-stick performance without risk of exposure to these controversial chemicals.
Features a hardened scratch-resistant coating that is super easy to clean.
Interior of pan made out of durable heavy-gauge aluminum, with a magnetized base for use with rapid heat transfer induction stoves.
Boasts a comfortable heat-resistant silicon coated handle that is reinforced to the pan via 3 solid rivets.
Sale
HOMWE Kitchen Cutting Board (3-Piece Set) - Juice Grooves with Easy-Grip Handles, Non-Porous, Dishwasher Safe - Multiple Sizes (Gray)
Full Set: Coming with three distinct sizes including small, medium, and large, our cutting board set is perfect for multi-course meals or all-day use
Versatile: Our plastic cutting board works great as a fruit or meat cutting board, fish cleaning board, carving board, or even as a sink cover for counter space
Easy Clean: Designed for mess- and stress-free cleanup, our kitchen cutting boards are dishwasher-safe and won't splinter, crack, or peel
Durable: Tough enough to withstand chopping, slicing, dicing, and sharp knives, our large cutting board surface is made with heavy-duty, durable plastic that won't retain stains or odors
Grooved Design: Complete with juice grooves and non-slip handles, our chopping boards prevent sticky liquids from spilling on the counter for mess-free meal prep
Pyrex Tempered Glass Mixing Bowls | 3 Piece Set | 1-Quart, 1.5-Quart, and 2.5 Quart Mixing Bowls for Kitchen, Baking, and Storage| Microwave, Freezer, and Dishwasher Safe | Proudly Made in the USA
Mix, microwave and serve in a single bowl. Cleanup is a snap thanks to dishwasher safe glass that also nests neatly to save cabinet space
Includes (1) 1-Quart, (1) 1.5-Quart and (1) 2.5-Quart Glass Mixing Bowls
Durable high-quality tempered glass is dishwasher, freezer, microwave and preheated oven safe
Nonporous glass won't absorb food odors, flavors, or stains
2-year limited warranty on glass
Made in the USA
Sale
Pyrex Glass Measuring Cup Set (3-Piece, Microwave and Oven Safe),Clear
Includes 1-cup, 2-cup and 4-cup versions
Easy to read measurements in cups, ounces and milliliters. Features a curved spout for precise pouring and easy-grip handles for comfort
Durable, high-quality tempered glass is dishwasher, freezer, microwave and preheated oven safe
Nonporous glass won't absorb food odors, flavors, or stains
Pyrex OEM quality glass withstands the test of time
Some More Techniques
Added a little thyme and paprika for spices and used coconut oil and bacon grease for the oil. The hubby and I LOVE it. Will definitely be making this again. Another keto success! The idea to use the crushed pork rinds is just genius. You can also fry up in lard. Delicious!! I never thought pork rinds could taste so good. Was perfect with some steamed broccoli and buffalo ranch dipping sauce.