Mocha Walnut Pudding Cake
How to Make Mocha Walnut Pudding Cake.
Check below for printable version of Mocha Walnut Pudding Cake.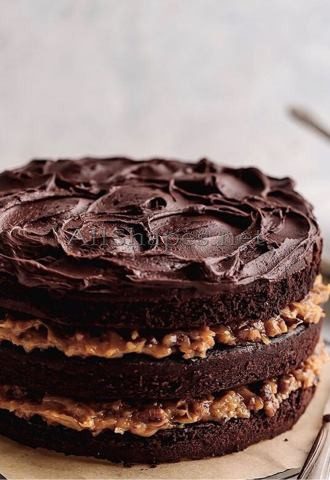 Mocha Walnut Pudding Cake
Print Recipe
Ingredients
1 Cup all purpose flour

3/4 Cup sugar

3 Tablespoon unsweetened cocoa powder

2 Teaspoon baking powder

1 Teaspoon instant coffee powder

1/4 Teaspoon salt

1/8 Teaspoon cinnamon

1 Cup chopped walnuts

1/2 Cup milk

1/4 Cup (1/2 stick) butter melted

1 Teaspoon vanilla extract

1 Tablespoon dark rum or brandy

1/2 Cup sugar

1/2 Cup firmly packed dark brown sugar

5 Tablespoon unsweetened cocoa powder

1 Cup hot water

1 Cup chilled whipping cream whipped to soft peaks
Instructions
Step 1
Position rack in center of oven and preheat to 350'F. Sift first 7 ingredients into medium bowl. Stir in walnuts
Step 2
Combine milk, butter, vanilla and rum in another bowl. Pour over flour mixture and stir until just combined (batter will be stiff) Spread batter in 8" square glass baking dish. Mix 1/2 cup , sugar, brown sugar and 5 tbsp. cocoa powder in small bowl. Sprinkle mixture evenly over batter.
Step 3
Pour hot water over top of pudding (do not stir). Bake until top is glazed and dark brown, about 40 minutes. Cool on rack at least 1 hour. Sauce will thicken as it cools (Can be prepared 6 hours ahead
Step 4
Let stand at room temperature.) Serve warm or at room temperature with whipped cream. 
We have partnered with a job search database and portal, so you can find millions of jobs (IT jobs, Nursing, Engineering, Doctor, Handyman, Contractors) from our website and apply jobs for free. Just change keyword and city of your choice and hit search.
Search Millions of Chef Jobs
---
Amazon Affiliate Disclosure Notice
Allshapes.net is a participant in the Amazon Services LLC Associates Program, an affiliate advertising program designed to provide a means for sites to earn advertising fees by advertising and linking to Amazon.com. Amazon, the Amazon logo, AmazonSupply, and the AmazonSupply logo are trademarks of Amazon.com, Inc. or its affiliates.
Tags:
Mocha Walnut Pudding Cake