Fettuccini With Shellfish
Fettuccini With Shellfish Recipe.
 How To Make Fettuccini With Shellfish.
Check below for printable version of Fettuccini With Shellfish.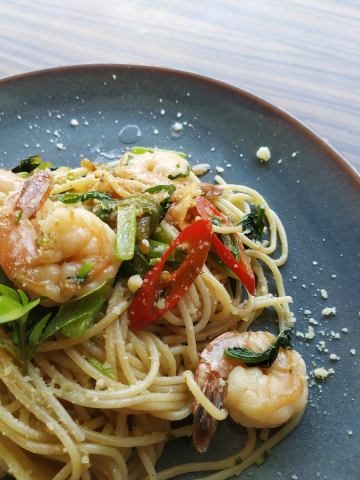 Fettuccini With Shellfish
Print Recipe
Ingredients
6 Tablespoons olive oil

2 Pounds ripe tomatoes peeled, seeded and chopped

3 Tablespoons drained capers

2 Tablespoons chopped anchovies

1 Tablespoon chopped garlic

3/4 Lb. Shrimp medium, uncooked, peeled and de-veined

1/2 Pound sea scallops halved horizontally

2 Teaspoons chopped pitted Kalamata olives

3/4 Pound fettuccine
Instructions
Heat 4 tablespoons oil in heavy large skillet over high heat.  Add chopped tomatoes, capers, anchovies and garlic.  Cook until tomatoes release their juices and mixture thickens, stirring occasionally, about 10 minutes.  Add shrimp and sea scallops and sauté just until cooked through, about 2 minutes.  Mix in olives.  Meanwhile cook pasta in large pot of boiling salted water until just tender, but still firm to bite, stirring occasionally to prevent sticking.  Drain.  Transfer pasta to bowl.  Toss with remaining 2 tablespoons olive oil.  Add pasta to seafood mixture and toss to heat through.  Season to taste with salt and pepper.  Divide among plates and serve.  (Olives can be found at Greek and Italian markets)
We have partnered with a job search database and portal, so you can find millions of jobs (IT jobs, Nursing, Engineering, Doctor, Handyman, Contractors) from our website and apply jobs for free. Just change keyword and city of your choice and hit search.
Search Millions of Chef Jobs
---
Amazon Affiliate Disclosure Notice
Allshapes.net is a participant in the Amazon Services LLC Associates Program, an affiliate advertising program designed to provide a means for sites to earn advertising fees by advertising and linking to Amazon.com. Amazon, the Amazon logo, AmazonSupply, and the AmazonSupply logo are trademarks of Amazon.com, Inc. or its affiliates.
Tags:
Fettuccini With Shellfish