Late Night Pasta Chez Frank
Late Night Pasta Chez Frank Recipe.
How to Make Late Night Pasta Chez Frank.
Check below for printable version of Late Night Pasta Chez Frank.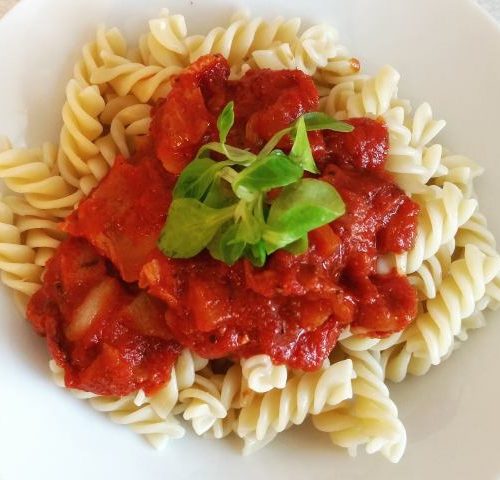 Late Night Pasta Chez Frank
Print Recipe
Ingredients
6 Cloves of garlic (pressed)

2 Tablespoons olive oil

4 Jalepeno peppers (seeded and minced)

8 Plumb tomatoes ( chopped)

1/2 Teaspoon salt

1/3 to 1/2 Cup chopped fresh basil

1 8 oz. package angel hair pasta or vermicelli cooked

Freshly grated parmesan cheese

Garnish with fresh basil sprigs
Instructions
step 1
Cook garlic and oil in large non stick skillet over medium heat stirring constantly, 1 to 2 minutes or until golden. 
step 2
Add the pepper and cook one minute stirring constantly. 
step 3
Add tomatoes and salt; cook three minutes or until thoroughly heated. 
step 5
Serve immediately over pasta. 
step 6
Sprinkle with parmesan cheese. 

Garnish if desired.  Yield: 2 to 3 servings.
---
Book Part or All of Your Next Adventure
Helping people all over the world learn about travel. Book Your Vacation!
---
We have partnered with a job search database and portal, so you can find millions of jobs (IT jobs, Nursing, Engineering, Doctor, Handyman, Contractors) from our website and apply jobs for free. Just change keyword and city of your choice and hit search.
Search Millions of Chef Jobs
---
Amazon Affiliate Disclosure Notice
Allshapes.net is a participant in the Amazon Services LLC Associates Program, an affiliate advertising program designed to provide a means for sites to earn advertising fees by advertising and linking to Amazon.com. Amazon, the Amazon logo, AmazonSupply, and the AmazonSupply logo are trademarks of Amazon.com, Inc. or its affiliates.
Tags:
Late Night Pasta Chez Frank